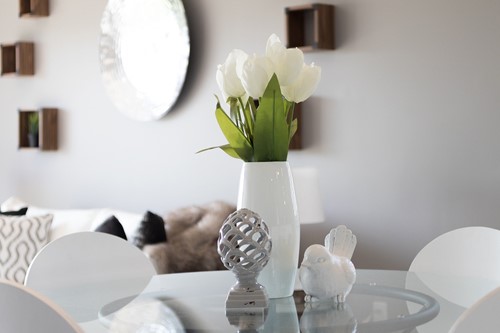 Photo by p_kennedy123 via Pixabay
You don't have to be an interior designer to bring color and life into a home when you put it on the market. And you certainly don't have to drop thousands of dollars to hire a professional stager, either. For most properties, a few staging basics can make all the difference between a hollow, echoing home and one that prospective buyers can actually imagine living in.
These top tips won't cost you much money, time or effort, but they can make a big impact.
1. Hang up towels.
Colorful, soft towels on the racks in the bathroom soften the space's edges and make it feel like an actual washroom. The same goes for the kitchen: choose a few simple, trendy tea towels to hang up in the kitchen to soften up the space. If there's a space to hang a towel, fill it.
2. Place a few rugs.
An empty living area will always benefit from a large rug, even if you're not staging with any furniture. A mostly-white space can take a colorful, trendy rug, so don't hesitate to choose something lively to make your living room feel a little more alive. A rug in the kitchen and bathrooms can also work wonders for those rooms.
3. Add some color.
Toss a colorful throw across the foot of a bed. Place a bowl of fruit on the kitchen island. Add a few fresh flowers to a vase in each bathroom. These small touches don't cost much, but add a personal touch that transforms the way visitors view a space.
4. Put a wreath on the front door and a new doormat at the entrance.
An in-season wreath or "welcome home" sign feels far more homey than a blank door with a realtor's lock gracing the doorknob. Add a fresh, new door mat and a large potted plant if you have room for it, and suddenly you've created a warm, welcoming entryway.
5. Minimize.
When in doubt, go with less. This is particularly important--and challenging--if you're selling your primary residence. You'll want your space to be as neat, clutter-free and open as possible. Box up excess stuff and put it in storage if necessary so your closets and storage spaces aren't filled to capacity.
If you find yourself listing multiple properties at a time, you'll quickly develop a quick-staging system--and a collection of a few key items you can use to stage practically any home you list.
Here's an added caveat about hiring a pro. Look at comps in your neighborhood as you firm up your approach for your property. Historic homes and niche homes in choice neighborhoods sometimes all but require a full staging to appeal to the buyers you want to attract. If you're certain it's worth it, by all means, make the investment. Otherwise, mini-stage it yourself using the tips above, and wait for the offers to roll in.