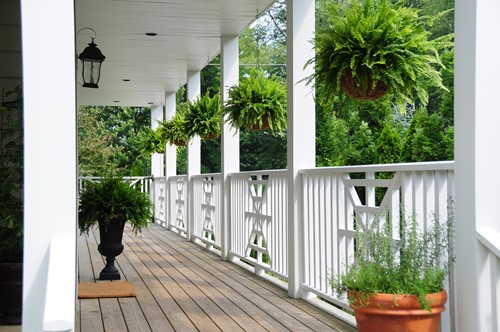 Beautiful railings, including the railing that surrounds your deck, plays a major role in your home's curb appeal. Even when it's not visible from the street, a strong, sturdy deck and the railing that surrounds it can still raise your home's resale value. That's extra living space, after all. Even if it is outdoors. But even more important, your deck and its railing need to be structurally sound for safety purposes. You don't want to take a fall off your backyard deck, and you certainly don't want your family, friends or guests to have a mishap. For these reasons, it's vital to keep railings in top condition. Here's how:
Choose the Right Material for Deck Railings
Today's homeowners have multiple options for creating a railing around a wooden deck. More popular ones include:
Pressure-Treated Wood -- A popular choice for deck railing, wood is the most high-maintenance railing material on the market. Even pressure-treated lumber will need to be re-stained or re-sealed intermittently. This type of railing may also warp or twist over time, but for an upscale appearance, it's difficult to beat. 
Vinyl --Vinyl is lightweight and requires little-to-no maintenance other than an occasional cleaning with the garden hose. Vinyl won't rust or rot, but the color may fade over time. 
Aluminum -- Aluminum is a lightweight, durable material that can withstand corrosion, rust and rot. It can be painted any color and is typically cheaper to install than heavier options such as pressure-treated lumber. 
Composite -- Composite deck railing is made from PVC and recycled wood. It combines the best of both worlds because it's impervious to warp, rot and rust. It doesn't need staining or sealing, it's available in many colors and can easily be painted. 
Once you've decided on a material, professional installation is best. Unless you're confident in your construction abilities, weight-bearing structures, such as deck railings, should be built to code. You'll likely need a permit, as well. Adding a well-built, professionally installed railing to your deck will impress future homebuyers. It will also delight your friends and family when the weather turns friendly. 
Maintaining Deck Railing
The best advice for maintaining your deck railing over time is simply to inspect it regularly. Take a good, long look every spring, and if you see issues -- nails that are popping up, boards that are weakening -- have them repaired right away. Clean your deck and railings annually, regardless of their composition, and make sure to stain and seal wooden railings at least every other year. 
The condition of the trim around your home, including railings, affects your home's value. Take the time to keep them in top condition to maintain their value and their safety.