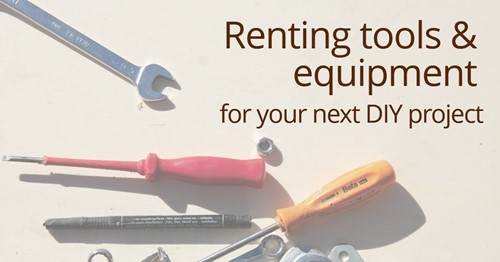 Having a set of tools and equipment to call your own is great, especially if you're an avid DIYer with ample space. However, there are times when equipment and tool rentals may be a more suitable option for you and your home projects.
Maybe your home isn't large enough for a workshop. Perhaps you don't use large equipment enough to outright own it. You might only need a few general construction equipment rentals for a new contracted addition, as outlined in your contract from your contractor. Regardless of the reason, there are a few basic things to remember when it comes to tool rentals.
When to rent equipment & tools
Renting smaller tools such as screwdrivers, hammers or even saws might seem a little over the top. And in many cases, it is. But when you have an entire patio that needs to be resurfaced, you may want to invest in renting a few concrete tools instead of just buying them.
Tool and equipment rentals are great when your projects are large one-offs, require the same commercial grade tools of the pros or slide easier into your budget. Consider how often you'll be using the tools, what types of projects you'll use the equipment for, the cost of ownership versus renting and the amount of room you have available for storage.
Rental equipment depends on your projects
Not all rental equipment and tool rentals are necessary for every project. If you're working with a large amount of wood and want to cut it while in the thick of your project, you may want to consider renting items such as circular saws, saw horses and a sander.
If you find yourself closer to the facelift and aesthetic section of the DIY home improvement chart, try renting power washers and pressurized paint sprayers.
No matter the project, take time to scope out what you may need for it. Think about setup, safety - such as goggles, gloves and face masks - and clean up when, as well as the actual act of the project itself when creating your tool rental list.
How to rent tools and equipment
Most hardware and home improvement stores will have tool and equipment rentals ready. They'll often post their rental rates and the rental period, so you can budget your time and money. If you need further assistance, try some light internet research, especially by checking sites that specialize in home improvement services.
Once you know what you're searching for, you can either bring the list to a customer service desk or simply make the rental reservation online.
Regardless of your home workshop setup, it's always worth exploring equipment rentals. If you're still in the planning phases of your home projects, dig deep into the details of that particular activity and create a list of things you may need and their alternatives if what you need isn't available.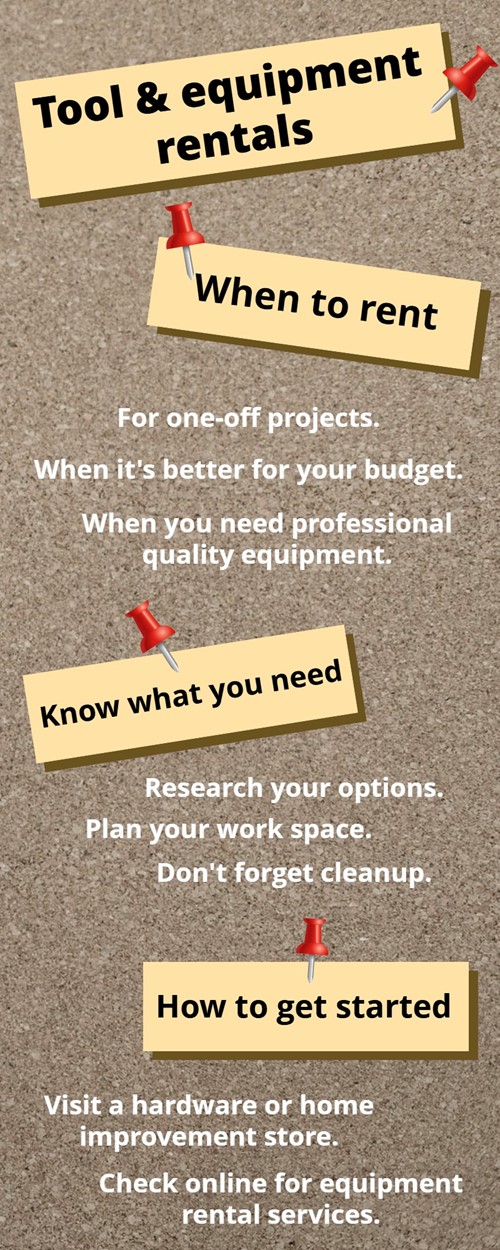 And, as always, when in doubt, consult a professional. Even if they're giving you simple tips, it's always a good idea to have their experience in your ear when making home improvement decisions.